A Céad Míle Fáilte
Welcome to


Stirabout Lane

Our Bed & Breakfast is located in Rathdrum, County Wicklow and is the ideal base for a holiday in the Garden of Ireland, Co. Wicklow.

Our home cooking and personal service makes our home your home for the duration of your stay. Pat & Daphne offer a "Céad Míle Fáilte" to all their guests.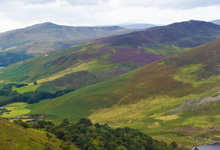 Wake up to the famous 127km/80 mile long Wickow Way walk and Glendalough at your doorstep. The Monastic site of St Kevins church is a delight for any keen walker. We cater for many walking holidays and are familiar with the locations to start your walking holiday.
continue reading
At Stirabout Lane we can help you create a great fishing holiday as we are into fishing ourselves and know of the best locations in Co. Wicklow. So get in touch and let us know the type of fishing you are into and we can help you make the most out of your holiday.
continue reading